Bifenthrin I/T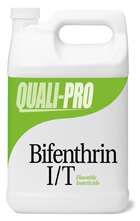 Sure-fire control of the toughest pest problems, including: termites, carpenter ants and all species of lawn ants in and around homes, commercial and industrial buildings, recreational areas, athletic fields, lawns and ornamentals. Non-irritating, no-odor formulation dries with no visible residue. No plant damaging solvents, no known phytotoxicity. Compatible with herbicides, fungicides, insecticides. University tested. Dependable, long-lasting residual control.
Fipronil 0.0143G Broadcast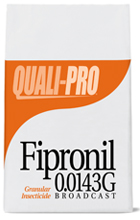 For control of imported fire ants, fleas, ticks and mole crickets on turfgrass and landscape beds. Single application delivers up to one year of reliable fire ant control. Works by contract and ingestion and in all weather conditions.Low use rates and "anytime" application, including fall and winter.
Prodiamine 65 WDG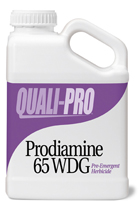 Pre-emergent grass and broadleaf weed control. Flexible application allows for both spring and fall use providing season long crabgrass control. Effectively controls Annual Bluegrass. Excellent tank mix partner with fertilizers and iron solutions. Low solubility and volatility — stays in the weed germination zone. Active ingredient rate as low as 1/4 the rate of other pre-emergent herbicides.
Quinclorac 75 DF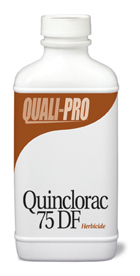 Dependable post-emergent control of both broadleaf and grassy wees in a wide variety of turf species from residential and commercial to golf courses, sports fields and sod farms. Long-lasting control of weeds and grasses — from one month up to 90 days. Excellent control of crabgrass, even in its mature stages. Eliminates a broad spectrum of broadleaf and grassy weeds without harming turf. Application and seeding flexibility — ideal for seeding and overseeding before or after application
 T/I 2.5 G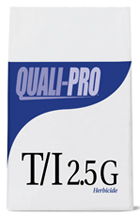 Selective pre-emergent control of more than 100 broadleaf weeds and grasses on field-and container grown ornamentals, landscape beds and more. Saves time and money with proven pre-emergent control on a wide range of broadleaf and grassy weeds in hundreds of ornamentals. Excellent crop tolerance and flexible application: early spring, late summer or early fall prior to weed germination or immediately following cultivation. Low water solubility – remains in weed zone once activated by rainfall or irrigation.