Atlantic Mulch Gift Cards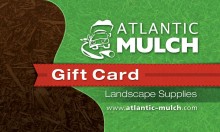 Tired of your family member or neighbor failing to "fix the yard" as promised? Give them the nudge they need with a gift card from Atlantic Mulch.  They can use it for landscape supplies like mulch, equipment rental, or for any of our great landscaping products.
Gift Card Order Form
Simply complete the details, pay online, and a Gift Card will be in the mail, pronto!